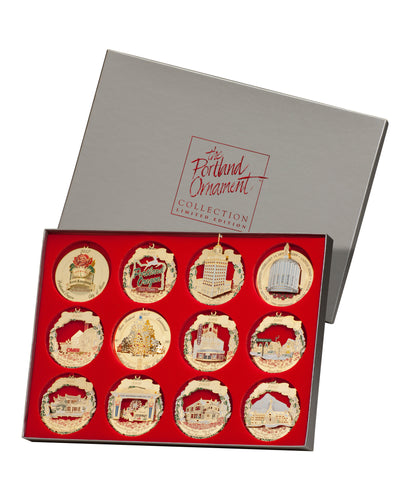 Portland Collector's Box (Set of 12: 1993 through 2004)
The Collector's Box brings together 12 years of annual ornament issues into a single, beautiful gift set. All collections includes a hand-numbered story for each of the included ornaments, and come packaged on foam peach board for safe storage. 
Currently Available: One complete set of 12 ornaments, 1993 through 2004!
Picture shown varies depending on which set of ornaments is purchased. 
---
---
Features of all Portland Ornaments
24-karat gold-plated with enamel silkscreen

Comes packaged in decorative red box with gold foil seal

Hangs on a red ribbon and lays on red peachboard

Personalized story of the depicted site, detailing the history of the landmark

Made in the U.S.A.
Betty Gimarelli designed and produced the 24-karat gold plated Portland Ornament™ beginning in 1989, and the Seattle Ornament™ beginning in 1994. Each year she selected a different scenic view of her beloved city. Today her ornaments are collected by aficionados world wide.
The Collector's Box includes the last annual issues of either the Portland or Seattle Ornaments. The ornaments come packaged in a decorative silver box with the Collector's Box logo embossed in red foil on the lid. The ornaments rest on red foam, and the stories from every ornament are included in the box. This is a wonderful way to start a new Portland Ornament collection!
---
We Also Recommend